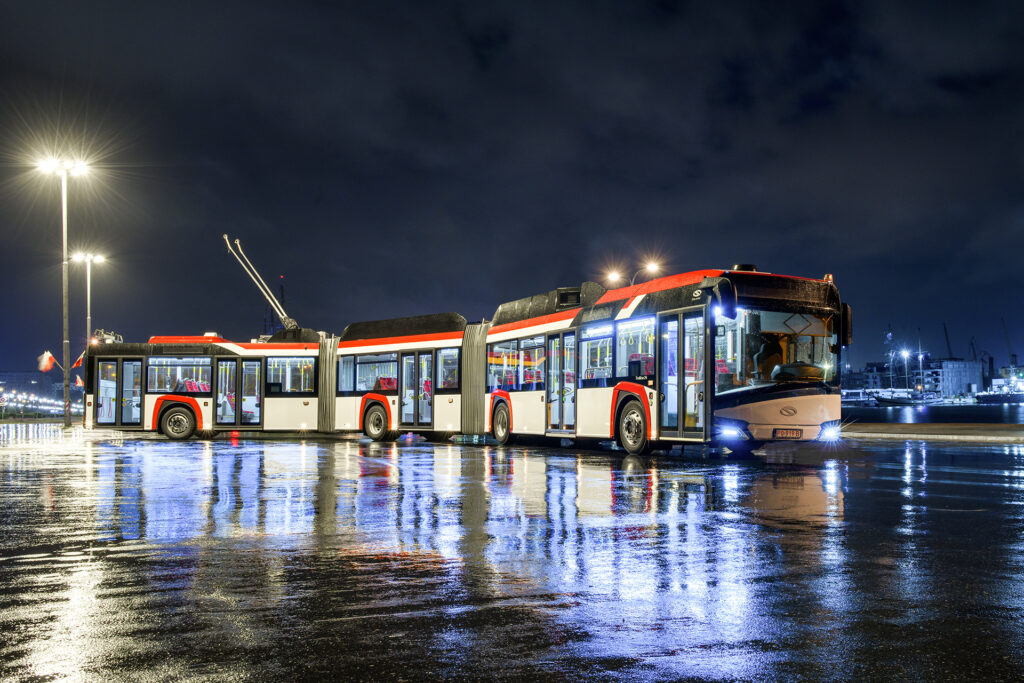 How do trolleybuses work? Trollino is the name of a family of low-floor trolleybuses that are extremely popular in Europe. They are quiet vehicles that do not emit any emissions at the point of use.
Trolleybuses are powered by electricity supplied, just like in the case of trams, from the catenary, but they do not need rails to move along the road. There are also versions of hybrid trolleybuses equipped with additional energy storage in the form of batteries or supercapacitors. The In-Motion-Charging system enables driving without connection to the overhead line.
Solaris also offers models equipped with a hydrogen fuel cell to increase the driving range out of traction. They are the first vehicles of this type in Europe. Batteries are charged in vehicles while driving through the fuel cell. This makes it possible for trolleybuses to move without being connected to the overhead contact line for a distance of up to 100 km.
How trolleybuses work?
Trollino's have the ability to return the electrical energy produced during braking back to the overhead line. Due to the greater acceleration and the resulting faster movement in city centers, they have an advantage over buses. At the same time, they are much quieter and cheaper to build than trams. They are characterized by more flexible mobile possibilities, thanks to the permissible tilt of the current collectors of 2 to 3 meters. In turn, the double insulation of the structure ensures additional passenger safety.
Trollino family
The Trollino family of buses includes models of different lengths: 12 meters, 18 meters and 24 meters. Solaris trolleybuses perfectly adapt to the specifics of various cities – climate, urban traffic characteristics, line occupancy, and even terrain, thanks to a wide range of possibilities in terms of vehicle length, engine, battery capacity, or the type of connection to the catenary. Low impact on the environment, proven technology, lower costs of infrastructure development as well as quiet and comfortable driving give the versatile possibilities of using trolleybuses and make them an important element in the transformation of urban transport into more environmentally friendly and more friendly for residents.